Staying fashionable while keeping warm as temperatures drop can be challenging, so we've compiled a list of nine must-have winter fashion items that will keep you cozy and help ensure your style remains on point. These pieces, from cozy knits and stylish boots to patterned scarves and chic jackets, will see you through any cold spell in style. So get ready to channel your inner fashionista and read on for winter wardrobe must-haves!
1. Invest in a long and cozy coat
Winter can be a challenging time when it comes to fashion. While you want to look stylish, you also want to make sure you're keeping warm. That's why investing in a long, cozy coat that goes with everything is a must-have item for your wardrobe this season.
It will keep you warm and toasty on even the coldest of days, but it will also add a touch of sophistication to any outfit. So, if you want to stay warm and stylish this winter, add a long, cozy coat to your closet.
2. Get your hands on a classic wool beanie
Staying warm doesn't mean sacrificing style, and a classic wool beanie is a perfect accessory to keep you looking stylish and your head cozy. Wool is naturally insulating and can regulate your body temperature, making it an excellent material for winter accessories.
With various colors and styles, you'll find a wool beanie that matches your personality and adds a touch of sophistication to any cozy winter outfit. So, top off your winter look with a must-have wool beanie and embrace the season in style.
3. Look for comfy boots
Winter can be daunting for fashion lovers who want to stay stylish and warm. However, the right pair of boots can make all the difference. Comfy boots are a must-have item to survive the cold weather. There are plenty of options, whether you opt for a classic ankle boot or a trendy knee-high design.
Keep an eye out for boots with extra insulation and a non-slip sole to stay cozy and safe during winter. You can confidently step out into the cold and look fabulous with the right pair of boots.
4. Get an awesome streetwear hoodie
When temperatures drop, it can be hard to find pieces that keep you warm while maintaining your sense of style. That's where the streetwear hoodies come in. With its effortlessly cool design and cozy material, it's no wonder that this fashion staple has become increasingly popular in recent years.
Whether running errands, heading to a cozy night in, or even dressing up for a night out, a hoodie always fits the look. Its layers make it perfect for the unpredictable weather of the season. So why not add a streetwear hoodie to your winter wardrobe? You'll be warm and stylish all season long.
5. Layer up with an oversized scarf
As the winter season approaches, keeping warm and stylish is a must. With an oversized scarf, you don't have to sacrifice one for the other. The ultimate winter accessory can transform any outfit, whether a simple jeans and tee combo or a chic knit sweater dress.
Not only will it keep you cozy on those chilly days, but it also adds a touch of personality to your look. From plaid to chunky knit, there are endless options to choose from. So, don't let the cold weather cramp your style. Invest in an oversized scarf and slay this winter season.
6. Find a pair of winter gloves
As winter draws near, it's time to start thinking about keeping warm and looking great at the same time. One must-have fashion item for this season is a pair of stylish winter gloves. The right pair of gloves will keep your hands warm and protected from the harsh winter winds and add a touch of style to your outfit. From classic leather to cozy knit, there are endless options to choose from when it comes to winter gloves.
Whether you want to match them with your winter coat or add a pop of color to your ensemble, a good pair of winter gloves will not disappoint. So, don't let the cold weather bring down your fashion game, grab a pair of stylish winter gloves and stay warm and fashionable all season long.
7. Wear a thin but warm sweater
As the temperature drops and the chilly winds start to pick up, it's essential to have the right wardrobe to keep you warm and stylish throughout the winter. To balance fashion and function perfectly, consider wearing a thin but warm sweater as an additional layer underneath your coat. This simple yet effective fashion hack adds an extra layer of insulation and creates a polished and put-together look that is perfect for any occasion.
Plus, with so many different styles and colors available, you can easily find a sweater that matches your style and complements the rest of your winter wardrobe. So why settle for bulky winter clothing when you can stay warm and stylish with this must-have winter fashion item?
8. Look for a pair of thick leggings or tights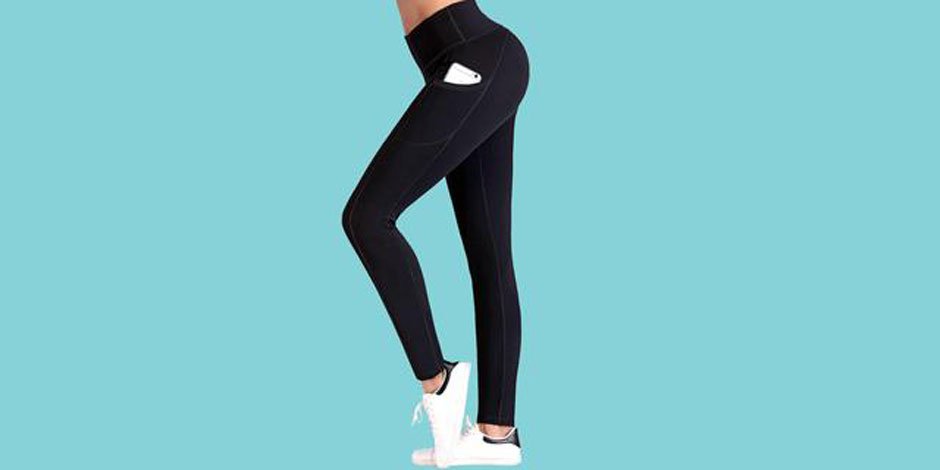 Winter can be dreadfully cold, but that doesn't mean you must sacrifice style for warmth. One must-have winter fashion item that can keep you both cozy and chic is a sturdy pair of thick leggings or tights. Not only do they accentuate your legs beautifully, but they also provide insulation to keep you toasty on chilly days.
Whether heading to work, running errands, or going out on a night on the town, a quality pair of leggings or tights ensure you'll feel comfortable and confident. From classic black to bold prints, plenty of stylish options are available to suit any fashion taste. So embrace the colder weather and elevate your winter wardrobe with a must-have pair of leggings or tights!
Conclusion:
As you can see, there are plenty of winter fashion items that will keep you warm and looking fashionable at the same time. This season is about making a style statement from chunky sweaters to timeless overcoats. For those who want to make a bold statement, take advantage of accessories like beanies, gloves, and scarves, which are critical players in ensuring your outfit looks and feels complete.